Help Convince Reluctant Senators to Vote in Favor of the VCF Extension
June 12, 2019 | Michael Barasch
As you know, I was in D.C. this week with Rich Alles and Lee London of my firm. We brought down dozens of 9/11 responders, and we were joined by 9/11 advocates Jon Stewart and John Feal, Ellie Engler of the United Federation of Teachers and Lila Nordstrom of Studentsof911.
In sum, we are making a lot of progress. To date, over 300 representatives in the House have agreed to co-sponsor the pending bi-partisan bill to extend (and fully fund) the VCF. We currently have 40 Senators as well. However, we need more Senators, especially those in key states where a significant number of former World Trade Center responders now live.
Today, The Judiciary Committee in the House of Representatives approved it without any amendments. This is great news. Now we need the entire House of Representatives to vote for it (Nancy Pelosi promises that she will put the bill up for a vote before July 4). Then it will go to the Senate where we need 7 more Republican Senators to co-sponsor this bi-partisan bill. Stay tuned. I will be going back to DC in July.
Once again, I urge you to reach out to your family and friends living in these 8 states and urge them to call their Senators. They should demand that their Senator agrees to co-sponsor S-546, "Never Forget the Heroes: Permanent Extension of the Sept 11th Victim Compensation Fund Act".
As Jon Stewart so eloquently stated during his testimony at yesterday's Judiciary Committee hearing,
"These men and women and their response to [9/11] is what brought our country back. It's what gave a reeling nation a solid foundation to stand back up on; to remind us of why this country is great; of why this country is worth fighting for. Thank God for all of these people. They responded in 5 seconds. They did their jobs with courage and grace, tenacity and humility. 18 years later, do yours!"
Here is a clip to Jon's testimony.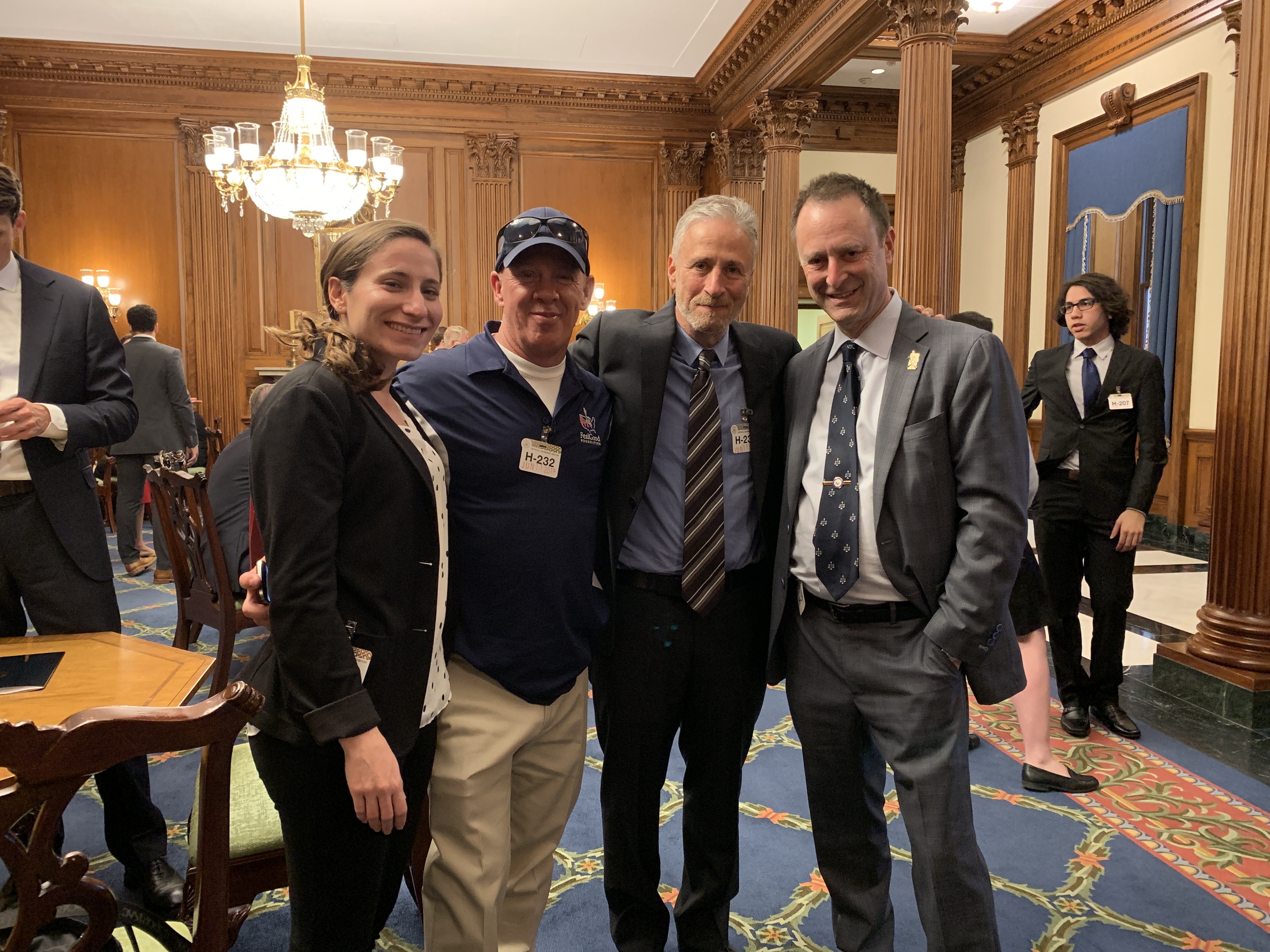 Mike Barasch, along with 9/11 advocates Jon Stewart, John Feal and studentsof911.org advocate Lila Nordstrom.
Here are the states to call:
Florida (nearly 4,000 in the WTC Health Program)
1. Sen. Marco Rubio 202-224-3041
2. Sen. Rick Scott 202-224-5274
North Carolina
1. Richard Burr 202-224-3154
2. Thom Tillis 202-224-6342
South Carolina
1. Sen. Lindsay Graham 202-224-5972 ****(his support is key)
2. Sen. Tim Scott 202-224-6121
Georgia
1. Johnny Isakson 202-224-3643
2. David Perdue 202-224-3521
Ohio
Sen. Rob Portman 202-224-3353
Texas
1. John Cornyn 202-224-2934
2. Ted Cruz 202-224-5922
Utah
Mitt Romney 202-224-5251
Pennsylvania
Pat Toomey 215-241-1090