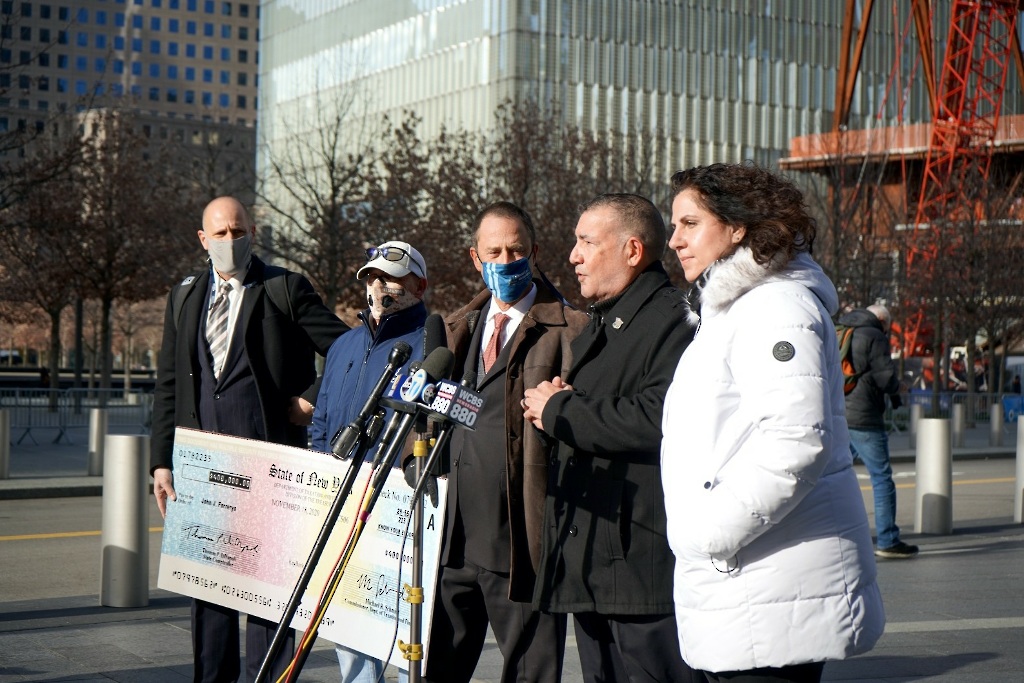 NYPD veteran John Ferreyra figured he could trust his longtime friend Gus Vila, a former police officer who had since become an attorney, and who handled Victim Compensation Fund (VCF) claims.
After the 9/11 attacks, Officer Ferreyra spent 12 hour days for 2 months assisting in the rescue and recovery efforts at Ground Zero. He has battled non-Hodgkin's lymphoma since 2005 and has undergone surgeries, a stem cell transplant, chemotherapy and radiation therapy sessions too numerous to count. While today he is thankfully in remission, he was found disabled by the NYPD and was forced to cut short his career after 20 years on the job. The VCF awarded him over $1 million for his pain and suffering and lost income.
In 2016, Vila gave Mr. Ferreyra $100,000, which represented just 10% of his total award. Over the next 3+ years, Mr. Vila lied to his client by telling him that due to government cut backs and a surge in claims, it would be all the compensation he would receive. Vila falsely told Ferreyra that there wasn't enough money to pay every victim. Instead of paying Ferreyra, he used the award to purchase real estate for his family and live a lavish lifestyle.
Several of Mr. Ferrayra's fellow police officers suggested that he contact our firm. In February, 2020, Ferreyra called Mike Barasch to inquire whether there was any chance that he would receive more of his award.
"Once I spoke to Mr. Ferreyra, I knew immediately that his prior attorney had stolen 90% of his award," said Mike Barasch. "All of my clients who received their initial 10% awards in 2015 had received the balance of their awards by the end of 2016. I told Mr. Ferreyra to call the VCF immediately and they confirmed that his award was paid in full to Vila on October 12, 2016."
Mr. and Mrs. Ferreyra were devastated not just by the theft, but by the betrayal of their attorney who was also a trusted friend and a former NYPD Lieutenant. Unbeknownst to Ferreyra, his former attorney had been convicted in State Court in 2015 for an unrelated theft, resulting in his disbarment.
"Tens of thousands of World Trade Center first responders have gotten sick or died from their illnesses. 68 cancers have been linked to the WTC toxins. I couldn't bear to see this disabled police officer be a victim again. There was no question that we would represent him at no charge to seek justice," said Barasch. Barasch & McGarry reported the theft to the U.S. Attorney's Office and the VCF. The VCF reported it to the Department of Justice and searched for other victims of Vila's greed. Mr. Vila recently pled guilty and will be sentenced in February.
In an effort to provide some significant financial relief to Ferreyra, our firm applied to the New York State Lawyers Fund for Client Protection. The Fund, whose mission is to protect legal consumers from dishonest lawyers, recently agreed to award Mr. Ferreyra $400,000 as partial restitution. This is the maximum amount allowed under their charter.
"This experience has been devastating. I trusted a fellow NYPD officer and I felt totally betrayed when I learned that he was a common thief and a liar and that his clear intent was to loot from me and the 9/11 Victim Fund," said Officer Ferreyra. "I want to thank Barasch & McGarry for taking my case pro bono, for investigating my case, and for their dogged determination to bring about justice. I want to thank the Lawyer's Fund for giving my family financial security. I hope that no other 9/11 first responder has to go through what I went through but if you were represented by Mr. Vila, you owe it to yourself to verify that you were not victimized by him. I also want to thank the F.B.I., the U.S. Attorney's Office for the Southern District of New York, the 9/11 Victim Compensation Fund, and the Dept. of Justice. Thank you all for protecting victims like me from predators like this."
It's so important that when the public reads about unscrupulous lawyers like Mr. Vila, they know that there are many more attorneys who care deeply about protecting the best interests of our clients. We appreciate the cooperation of the New York State Lawyers Fund for Client Protection. Its swift involvement on behalf of this disabled 9/11 hero will provide his family with financial security.